In April of last year, the number of people using subscription services was 37 million. Since 2014, the number of people using subscription services has grown by over 800%.
What is a subscription service?
A subscription service is a company or business that sends or provides you with something monthly for a flat rate free. Think Amazon Prime and Fresh, Spotify, Birch Box and Blue Apron. If you don't know what these companies provide—they go as follows: Amazon Prime allows users 2-day shipping on basically anything and everything, Amazon Fresh will deliver fresh groceries, Spotify gives users unlimited music to listen to, Birchbox provides beauty products and Blue Apron delivers ingredients coupled with the recipes to cook them.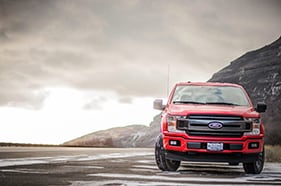 The products that are provided are nothing new and wild. Food, makeup, and music—but the method of getting them is the wow factor. These services don't have consumers learning about and thus yearning for a new product. They have people look at an existing product in a new way. If you know what you want, why not click and get it anytime you want? The products we love most are the ones that have both functional benefit and a real emotional benefit.
So how does the Ford have anything to do with the ease the use subscription services provide? Simple, we are now testing vehicle subscription services in the U.S. that will soon be offered across the nation. Subscribers will get a car, insurance, maintenance, and a capped number of miles. Cars can be swapped out at any time and delivered via the app. Going on a road trip? Perfect an Explorer will leave ample room for everyone and the luggage. Doing some home improvements? Even better, the F-150 will carry all the supplies. Looking for a fun weekend adventure? A Mustang with the top down will do just the trick.

Subscribing or buying, don't hesitate to come see us and discover all of the hip new options for you and your crew. We're open six days a week and want to help you take your car game from lame to out of this world.